A plethora of tips for incorporating designer tile accents into your shower.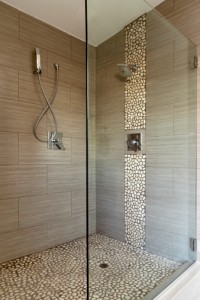 Because tile stands up so well to the heat and humidity of the bathroom, it is a natural choice for your shower enclosure. Here are some design tips to help you get started creating your dream shower.
Create an Accent Wall
When tiling a kitchen backsplash, designers often use the space between the cooktop and the range hood as a place to create an intricate mosaic or tile accent wall. Why not use this same approach in the shower? Just pick one wall and create a bold tile design there as a focal point for the room.
Break Up Spaces with Borders & Accents
Using the same tile on your entire shower enclosure can turn out looking a bit bland. Fortunately, there are many different ways to break up an expanse of tile. One common technique is to create borders or edging around the floor or at the bottom or top of the walls. This can be done with a contrasting color or pattern of tile. You can even find specially designed trim tiles that create the look of a molding and add texture to the wall. If you really want to break up the space, you might consider doing one half of the wall in a neutral tile like a white subway tile, and then the other half with a bold colored tile or a decorative tile. You can separate the two sections with a nice trim tile to tie the two different looks together.
Add Focal Points in Niches or Benches
An excellent way to incorporate bold colors or patterns into the shower area without risk of them becoming overwhelming is to use them in a shower caddy niche or bench top. This creates a nice accent, and as an added bonus tiling a small area in this way will also allow you to include some high-end designer tile without breaking your budget.
Experiment with Tile Size
Even if you don't want to add too many different contrasting colors or tones to your shower, you can still create visual interest by varying the size of the tile. For example, you might have large square floor tiles, but you could opt for tiny squares on the walls to create a contrast.
Use Grout to Highlight Tile Patterns
If you have chosen an unusual tile layout pattern for your shower, such as a diamond pattern, herringbone pattern, or basket pattern, one great way to make the pattern pop even when using monochromatic tile is to use a contrasting grout. For example, you could pair a dark grout with a light colored tile to draw the eye to the shapes of the tiles. As an added bonus, dark grout never shows the dirt.
Don't Forget the Ceiling
When creating a shower stall, you have the option of stopping the tile a few inches above the showerhead, continuing it up to the top of the wall, or even continuing it up onto the ceiling. The ceiling is an often overlooked canvas for shower tile design.